Plating Plenty
Plating Plenty is a publication in partnership with the Midwestern Agricultural Regeneration Agency (MARA) to commemorate 50 years of the Green New Deal. This collection of recipes, stories and images reflect on and celebrate impacts of the GND on food and farming. In the past half a century, MARA has worked to make good on the promise of plenty in the Midwest through a framework of jobs, justice and decarbonization. In a region where Agriculture is such a big part of our identity, we know well the power of food to bring people together. Food allows us to heal, to connect to each other and to the land, and to share our stories. In the spirit of a classic Midwestern tradition, this community cookbook includes recipes and stories contributed from people living all over the Midwest. We hope that you enjoy cooking these recipes, sharing with your loved ones, and reflecting on the Green New Deal transition in the Midwest. Thank you to everyone who has so generously shared their favorite dishes, as well as the beautiful stories behind them.
---
Manoomin
Salad
Recipe & story contributed by Tula Pewaush, a conservationist and researcher with the LTPR network, and founder of the "Partners in Flight" conservation job training program.

I grew up on the Fond du Lac Reservation in Minnesota, near Duluth and Lake Superior where my parents and our community raised me to be proud of my Ojibwe heritage. My mother and father were both adamant about honoring Ojibwe traditions in their own lives, and encouraged my siblings and I to do the same.

Every summer at the end of August just before the new school year began, my father would take my brother and I on a long weekend canoe trip to harvest Manoomin, or wild rice along the St. Louis River. These trips remain some of my favorite memories - the time spent connecting with my family on the water and in the rice fields, learning about and honoring traditions of our ancestors, and spending the days paddling through rivers and wetlands listening to songbirds and chirping insects was so grounding and peaceful. Sometimes, we'd extend the trip a day or two and go waterfowl hunting on Spirit Lake during the open season. When we got home, we'd prepare manoomin salad with roasted duck or pheasant.

My dad was passionate about traditional cooking. He actually met my mom while he worked as a volunteer chef at the community center on the Fond du Lac Reservation, where she would play lacrosse. We never really got to see her play competitively, but we heard so many stories about how she used to run circles around people in the Bison Sledges league --she still has a few framed newspaper clippings and trophies on display in the community center.
She played lacrosse competitively when she was growing up, though the colonized game of lacrosse that is played in the United States today is quite different from the baaga`adowe that our Ojibwe ancestors played, and for a long time women were discouraged from participating in the sport. By playing lacrosse, a game that was stolen from our people and appropriated for so long, my mother was intentionally reclaiming a piece of her identity. In fact, she was good enough that she got to play at the University of Wisconsin--it was a club team when she started, but she and her teammates appealed to the athletics department to add lacrosse as an official division 1 team at the school, and it was added just in time for my mother to play on the team her senior year. My mother and her teammates, who are like family to us, saw to it that I was playing lacrosse as soon as I could walk, teaching me this game--and about my identity as an Ojibwe woman--in the same way my dad did through canoe trips in search of wild rice and wayward ducks.

Lacrosse became a huge part of my life, and the sport has opened so many doors for me. In high school I played for the Bison Sledges, a competitive youth lacrosse team in Minnesota. The Bison Sedges was more than just a lacrosse team. The league's mission is to empower indigenous girls and women, and the game creates a space to heal, connect with our community, and build strength. My coaches encouraged me to play in college and apply for scholarships, and I was lucky to be selected as a recipient of the Lacrosse Annual Prairie Conservation Scholarship funded by the Long Term Prairie Conservation Research Network (LTPR) given each year to a player from the Bison Sledges. This scholarship allowed me to attend the University of Minnesota for free, where I played lacrosse and took professional coursework to prepare me for a career in prairie conservation management.

While studying at the University of Wisconsin, I had the opportunity to lead a research and design team working on restoring wetland habitats for growing wild rice and protecting critical bird and wildlife habitat areas. I developed a system using new drone technology to survey and monitor the landscape, and we worked with a team from the Midwestern Agricultural Regeneration Agency (MARA)'s Truth and Reconciliation Committee and LTPR to redesign the former prison site at FCI Sandstone to serve as a conservation field station. This was a deeply emotional project, and I believe, a vital step towards healing both for the landscape and for people - particularly for communities most impacted by the carceral system.

Being able to work in conservation professionally has really been a dream come true--the culmination of a childhood spent learning how to harvest manoomin and waterfowl as my ancestors did. I was raised to understand that if we respect and care for the land properly, it will always provide us with plenty. Today, I work with LTPR on a project called "Partners in Flight", where I teach a job training workshop course that prepares people for a career in prairie and wetland conservation work. The course is taught at the Sandstone Field Station, and includes courses on conservation history and Green New Deal policy, technical training on how to use conservation monitoring technology (such as flying drones), as well as hands-on field work such as bird and plant identification, water quality testing, and more skills that are critical to conservation work. Partners in Flight also offers shorter educational workshops for youth and conservation oriented summer camps, which are funded through LTPR and the Department of Education. I particularly love leading a weekend canoe trip with campers where we learn all about wild rice, participate in a traditional harvest, and cook a meal together using the rice we gathered - just like I used to do with my family. I love that I am able to share my passion and get more people involved in the critical work of caring for the landscapes that sustain our communities as well as critical wildlife populations. I hope you enjoy making this Manoomin Salad recipe, and check out Partners in Flight and LTPR to learn more!



Recipe:
Ingredients:
Pumpkin seeds
Sunflower seeds or other nuts
Wild rice
Vegetable stock
Carrot
Tomato
Scallions
Dried cranberries
Watercress
|
Vinaigrette:
Neutral oil, such as canola oil or sunflower oil
|
Instructions:
Preheat the oven to 350 degrees, and spread the pumpkin and sunflower seeds (or any other nuts you are using) on a parchment lined baking sheet. Roast for about 10 minutes, until the toasted and slightly golden brown. Remove the tray from the oven and set aside to cool.
On the stove, add the stock and wild rice to a large pot and bring to a boil, then reduce the heat to low and simmer, covered for about 40 minutes, or until the rice is tender and the stock is absorbed. Set aside cooked rice to cool.
Meanwhile, chop carrots into matchsticks, dice tomatoes and thinly slice the scallions, using both the greens and whites.
To prepare the dressing, combine the apple cider vinegar, oil and honey or maple syrup in a small bowl and whisk until combined. Season with salt and pepper to taste.
Once the rice has cooled, take a large bowl and combine the rice, chopped vegetables, dried cranberries, watercress and vinaigrette. Toss to combine, and serve chilled or room temperature.
This newspaper clip has been shared by Tula Pewaush. It highlights the decommissioning of the Minnesota LPTR Conservation Center. Prior to this, it was a high security prison which was shut down post the "Defund the Police" protests in 2020. It has since run successfully as a migratory bird and wild rice conservation center. Thank you Tula for your contribution!
Tula Pewaush - a leader in migratory bird and wild rice conservation and a pro lacrosse athlete
Partners in flight - Jobs program run by our friend Tula Pewaush. This is a informational brochure for the program encouraging and introducing conservation jobs graciously shared by Tula.
This is a poster of the annual conservation scholarship program inviting baaga`adowe (Lacrosse) athletes to attend the University of Minnesota.
Herb Pesto with Sunflower Seeds
Recipe & story contributed by Sal Brown. A professional Chef and producer of the popular television series "The Green New Meal", Brown is well regarded for his contributions to and coverage of the movement for a more sustainable food system from farm to table.


As a professional chef, exploring how ingredients and flavors can come together in unexpected ways to create a new dish is my passion. While I love to create complex and unexpected dishes, I still find that the simplest dishes - the ones I grew up loving, like this pesto recipe - remain my favorites. This pesto recipe is tried and true, and it reminds me of my mother, who taught me how to make it, and of home.

I grew up in Iowa, where I spent a few early years in Des Moines before moving just outside the city to a farm with my family when my mother became a part-owner in the Sunflower Cooperative Land Trust (CLT). The Sunflower CLT is a cooperative of mostly Black farmers, all of whom applied for land allotments and membership grants through the Midwestern Agricultural Regeneration Agency (MARA)'s Agricultural Land Redistribution program, which was developed in partnership with the Truth and Reconciliation Commission in the late 2020s. It served as one of the Government's first pilot reparations projects and was targeted at Black famers whose land was dispossessed over the course of the 21st or 20th century--stretching back at least three generations. So, if you never owned a farm but your grandparents did, you could qualify through MARA's ALR program.

My family has always been involved in agriculture, dating back to our enslaved ancestors, and later my free ancestors who were some of the original homesteaders in the Midwest. Over the years, however, as racist lending policies became worse and the USDA withheld loans to my family so their land could be foreclosed and bought by Monsanto, it became more difficult for us to keep our land. Eventually, my great grandparents had to sell their farm and moved to the city.

My grandparents and parents all grew up in Des Moines, but my great grandparents made an effort to stay connected to their passion for farming and cultivation. They always maintained a small garden by their house, growing different vegetables and herbs, and would share with neighbors, and passed this knowledge down to younger generations. They were like walking, talking farmers' almanacs! As a young girl, my mother would help her grandparents in the garden, and though my family lived in an apartment without much space to maintain a garden, she rented a plot at the Franklin community garden in Des Moines and grew all kinds of herbs and vegetables there.

My mother always dreamed of having her own farm, but she never could have made the financing work on her own. When she grew up, farming was for the rich--hell, people who have never even been to Iowa owned more of Iowa's farmland than my family did. Prior to the 2023 Farm Bill and the formation of the Midwestern Agricultural Regeneration Agency (MARA) , it was very difficult for people like my mother, who did not own large plots of land or have access to the kinds of intergenerational wealth or capital you needed to become a farmer in America. Things started to change in 2023 when the Farm Bill stopped subsidizing corn and soybeans. Industrial farming operations could no longer sustain their monocrop growing model, and many went out of business, often selling the land to the government. With this land, MARA began their Agricultural Land Redistribution (ALR) program, creating a series of cooperatively owned land trusts (CLTs) across the landscape. The ALR program divided up these large farms and provided new farmers access to shared resources, like farm equipment, seeds, and assistance from MARA conservation professionals to figure out plans to restore the soil that had been depleted from years of corn production and pesticide use. As a form of reparations, preference was given to Black and Native applicants in the ALR program.

My mother applied to the ALR program, and became a part-owner of the Sunflower Cooperative Land Trust. Sunflower CLT was granted a plot of land that had formerly been part of an industrial corn farm that went under when the government phased out the corn subsidies. Having been tilled, fertilized and doused with pesticides for years of growing only corn, the land was in bad shape when it was put into the cooperative, and the first few seasons were spent doing more restoration than farming. Luckily, MARA's conservation corps worked with my mother and the other farmers in the land back program to restore the soil health, and after a few seasons the landscape had transformed. MARA grants also helped us get access to new farm equipment and technology. I remember being so excited when we got our first automated tractor and drone monitoring fleet, and how excited I was when my mother let me help fly the drones over our field. Since none of the farmers was entitled to any specific plot of land, just a percentage share, we worked in the cooperative to rotate crops every few growing seasons to protect the soil. My mother mostly grew herbs and some vegetables, and would switch plots every few growing seasons.

As a result of the ALR program, the land that once was farmed by one owner just to produce corn and soybeans was now sustaining an entire community of small farmers. We built our homes here, and very quickly felt a strong sense of community - we all took care of one another and the land, and each other. The mindset and community that was fostered at the CLT was one of community, care, and sharing. These same principles are central to my approach to cooking. Some of my most treasured memories with food all happened in the Sunflower CLT community kitchen. We often gathered there with neighbors, everyone bringing an ingredient from their farm, and created a meal to share. The feeling of pride from helping to produce a meal, and the joy of cooking together as a community is something so special and wonderful.

I developed this pesto recipe in our community kitchen, using herbs from my mother's farm, along with sunflower seeds from flowers we grew in the conservation zone on the cooperative. These bright, beautiful flowers that our CLT was named for are a native plant to the Midwest, and they provide a food source for migrating birds passing through Iowa. The seeds left at the end of the season can be dried and eaten, or used to make sunflower oil, flour, and sunbutter. Adding them to my pesto just made sense, and the results are delicious! This pesto recipe can easily be made in a big batch, and is a perfect sauce or condiment to share. I love using pesto to elevate pasta dishes, salads, or as a topping on a sandwich, and this recipe remains one of my favorites because it always reminds me of my mother and her herb farm where my passion for food and cooking all began.

My early life largely shaped how I approach cooking, and continues to be a source of joy and inspiration in my culinary career. Through food and cooking, we can become more connected to each other and to the land that sustains us. Getting the best ingredients starts with a seed and healthy soil, and understanding where the ingredients I use come from is incredibly important in my approach to cooking.

My mother still lives in the same house on Sunflower CLT, growing herbs and vegetables. Sunflower CLT has a small on-site produce market, and growers are also able to sell to the local food hub, gaining access to buyers (restaurants, markets, households) in the greater Des Moines area.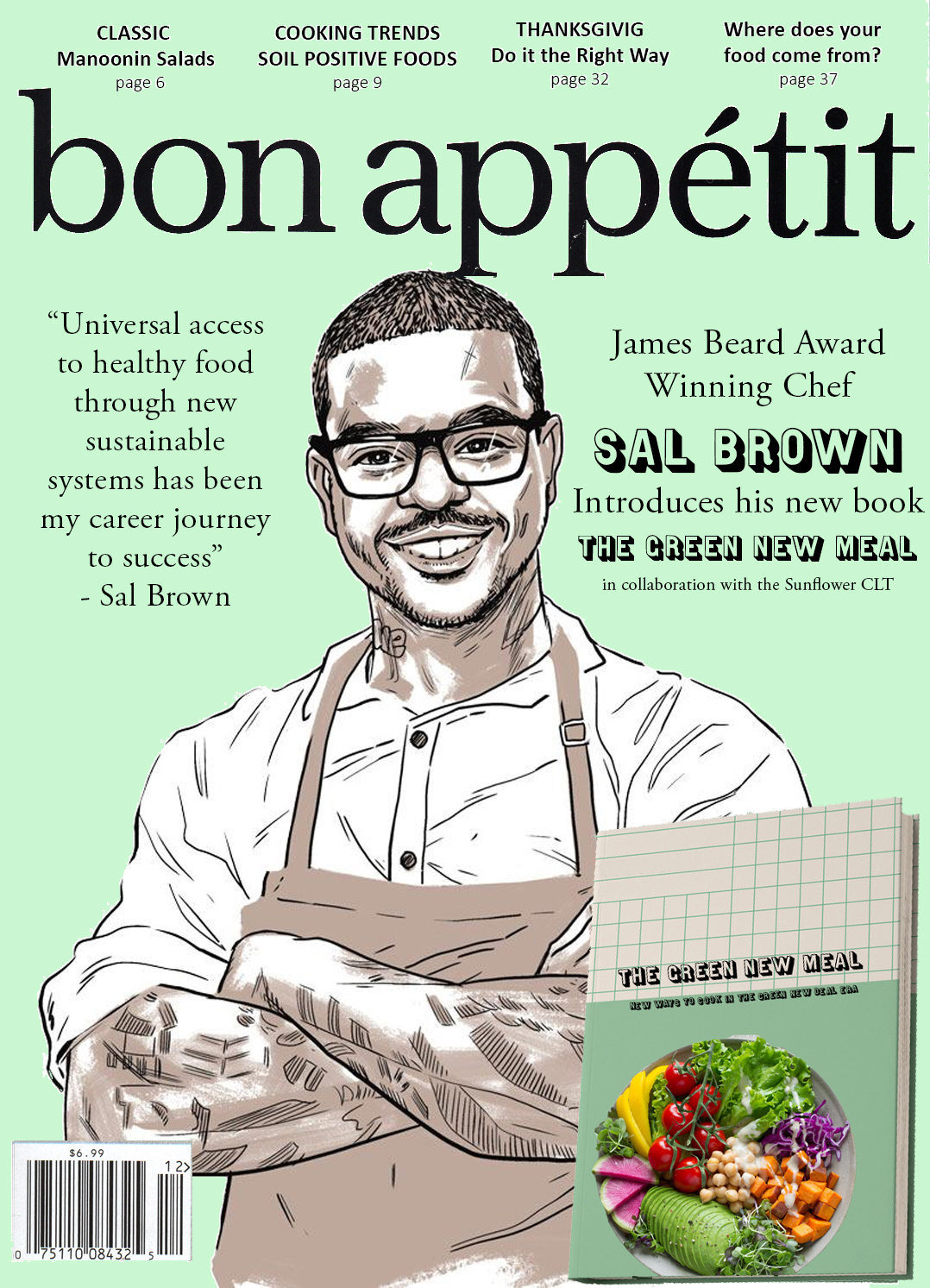 "Universal access to healthy food through new sustainable systems has been my career journey to success" - Sal Brown, Award winning chef and author of the upcoming book "A Green New Meal"
This recipe is a great way to use any herbs you have on hand, and sunflower seeds stand in for the traditional pine nuts. Sunflowers are a native plant to the Midwest.
Recipe:
Ingredients:
Raw shelled sunflower seeds
Garlic
Basil
Parmesan cheese
Olive oil
Lemon juice
Salt
|
Instructions:
Rinse sunflower seeds and add to a jar. Add water, covering the seeds by about one inch of water and soak overnight.
The next day, drain and rinse the soaked seeds, and add to a blender or food processor along with the remaining ingredients. Puree until smooth, adding a small amount of water if the pesto is too thick.
Serve as a sauce, spread or dip. Pesto can be stored in the refrigerator for about 5 days, or can also be frozen to extend the shelf life
Mushroom Burgers
Recipe & story contributed by Sam Chen, a MARA engineer working in the subterranean technology department, who moved to Southern Illinois from California in 2036. In their free time, Chen enjoys exploring and foraging for mushrooms in restored caves in Illinois, and cooking with friends



I remember the heat, the choking, thick smoke, and the feeling, standing in my living room during the 2036 fires that this was it. I wouldn't be able to come back after this one. I packed up most of my stuff, and my dog and I evacuated to stay with family away from the fires. I watched my house and neighborhood burn to the ground on CNN from the floor of a cheap hotel room off 101 in Salinas. I felt lucky to be out of danger, but I couldn't believe that everything was gone, that I couldn't go back anytime soon--if ever. When the FEMA crews finally came around offering buyouts for people who'd lost homes and were willing to relocate, I took the money and ran as far away as I could.. I'd been working in tech for a long time, and to be honest I didn't really love my job or life out in California, so I took this as a sign that it was time for a fresh start. I moved to Harrisburg, Illinois with my dog, my rusting old car, and a duffel bag of clothes and a few other essentials. I'd been reading about all the incredible things happening out here through the Midwestern Agricultural Regeneration Agency (MARA) and its cave restoration program, so once I got settled I applied for a job working with their subterranean technology team.


Before moving to Illinois and working with MARA, I had not really thought about mushrooms all that much. I mean, sure, I like eating them, but beyond adding mushrooms to a stir fry for dinner they weren't really a big part of my life. But when I started working on the subterranean tech team with MARA, even though I was doing more tech support and web based work, I started to learn a lot about what MARA is doing with mushrooms and cave restoration, and man is it COOL. The robots I work on that map out old mines and caves are a part of a bigger project to map and monitor old mines, restore them to environmental and agricultural standards, and then use them to grow mushrooms. Illinois hasn't been mining coal for a long time since wind and solar took over, but the old mines were just sitting around, sometimes even causing pollution and safety hazards. Restoring them has been a really important part of MARA's environmental recovery work. Most of the caves MARA manages are being used to grow mushrooms for research and to create new plastic replacement single use materials that are low carbon and completely compostable. Some of my buddies over in the material science and engineering branch here at MARA are working on this mushroom based material that can be used to make all kinds of cool stuff, from plates and silverware, to maybe even building materials and furniture. It's really wild how they can transform mushrooms into these completely new things - we really are living in the future!

Even though I was settling in in Illinois and loved my new job working with MARA, I was really missing some of the hobbies I'd picked up on the west coast - surfing, hiking, all that. I'd been doing a lot of biking out here in Illinois, but I needed something new. A few of my coworkers had been talking about how a few of the old coal mining caves MARA restored have become underground adventure mushroom foraging attractions, so I went with some buddies one weekend to check it out, and immediately I was hooked. When you get there, they have you sign a waiver and gear up - headlamp, ropes, special shoes, and a belt bag and foraging knife to collect mushrooms. After a quick crash course on identifying mushrooms (all the ones growing down there are safe to eat), you head underground and climb around, collecting mushrooms. Being underground is such a wild experience - it feels like a whole different world, and foraging down there is a surprisingly good workout. Plus, when you leave you've got all these awesome mushrooms to take home and eat!


I ended up joining a local cave foraging club, and we go every other weekend. After a good foraging session, we all get together and have a big mushroom potluck. I love grilling, and my specialty is the mushroom burger. This recipe is easy, delicious, and a huge hit at any cookout. Of course you can make this recipe with mushrooms from the market, but if you have the chance to visit southern Illinois and check out a mushroom cave, you've gotta try it at least once - I promise the burgers are better if you forage those fungi yourself!




Recipe
Ingredients:
2 cups fresh mushrooms, finely chopped
2 large eggs, lightly beaten (or vegan egg substitute)
½ cup dry panko bread crumbs
½ cup shredded cheddar cheese (or vegan cheese)
½ cup onion, finely chopped
¼ cup flour
¼ teaspoon dried thyme
Salt and freshly ground black pepper
1 tablespoon neutral oil (such as vegetable or sunflower)
Burger buns
Burger toppings (lettuce, tomato, onion, cheese, ketchup/mayo/mustard)
|
Instructions:
In a large bowl, combine the mushrooms, eggs, bread crumbs, cheese, onion, flour and thyme. Season to taste with salt and pepper, and combine using clean hands, or a spatula.
Form the mushroom mixture into four patties, about an inch thick.
If using a grill, brush the grates with oil and cook the patties over a medium-high heat. If using a stove-top cooking method, heat the oil in a cast iron or heavy non-stick skillet. Add the burgers, and cook for about 3-4 minutes before flipping and cooking for an additional 3-4 minutes until both sides are slightly crispy.
Toast the burger buns, and serve burgers with toppings of your choice.
This newspaper clip has been shared by Sam Chen, a MARA engineer working in the subterranean technology department, who moved to Southern Illinois from California in 2036. In their free time, Chen enjoys exploring and foraging for mushrooms in restored caves in Illinois, and cooking with friends.
Geological map - Harrisburg, Illinois. This map details the regeneration process of abandoned coal mines undertaken jointly by LTPR Network and MARA.
Three Sisters Cincinnati Chili
Recipe & story contributed by the Sunflower CLT community kitchen from their recipe archive.

This twist on the classic Midwestern dish is a crowd pleaser at the Sunflower Community Land Trust community kitchen. All the elements of a classic Cincinnati chili are there, plus the addition of hearty vegetables that are grown on the farm. Corn, beans and squash, are sometimes referred to as the "Three Sisters" since they grow so well together - a practice we learned from Indigenous traditions and have implemented on the farms at Sunflower CLT. We've also subbed ground beef for Beyond beef, making this a perfect plant based meal! This chili is comfort food at it's finest, and makes enough to share.
Recipe:
Ingredients:
1 cup of sweet corn kernels
1 whole butternut squash
1 cup of kidney beans
6 oz. tomato paste
4 cups water
2 pounds ground Beyond beef
8 oz. tomato sauce
1 large onion, minced
6 cloves garlic, minced
3 tbsp. chili powder
1 tsp. cinnamon
¾ tsp. ground allspice
¼ tsp. cloves
½ tsp. cayenne pepper
2 tsp. salt
1 tbsp. apple cider vinegar
1 oz. unsweetened baking chocolate
Instructions
Prepare the corn, beans and squash, and set aside:

If using dried beans, soak overnight and drain. For canned beans simply drain and rinse.
Shuck the corn, and cut the kernels off of the cob.
Peel the skin off of the butternut squash, cut in half and remove the seeds. Cut the squash into small cubes

Heat a large, heavy bottomed pot over medium-high heat. Add the tomato paste to the pot and cook, stirring and scraping the bottom of the pan constantly until the tomato paste becomes fragrant and slightly browned - about 1 to 3 minutes.
Turn off the heat, and add the water and Beyond meet, mixing to combine.
Return the medium-high heat, and bring this mixture to a simmer, stirring constantly to break up the Beyond meat and combine the flavors.
When everything is combined, add the squash, beans, corn, tomato sauce, onion, and spices.
Turn heat down to low and simmer, uncovered for 2-3 hours, stirring often.
When chili has simmered and reduced to your liking, add the vinegar and chocolate, stirring to combine and melt the chocolate.
Serve over warm spaghetti, with additional toppings of your choice
Toppings and serving options:
Spaghetti
Shredded cheddar cheese or vegan cheese
Minced yellow onion
Additional kidney beans
Oyster crackers
---